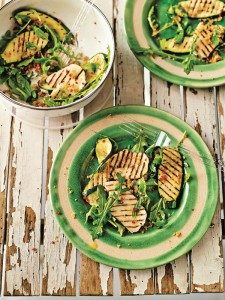 Looking for something tasty to eat with your wine? Try this summery recipe from James Ramsden's Love Your Lunchbox.
Serves 2
Toasted quinoa is an excellent thing to have kicking about. Scattered over salads, tossed through pasta, or whatever, it adds a great nutty crunch to food. This particular recipe makes more than you need – it seemed to me that if you're going to toast quinoa, you may as well do more than a single tablespoon. Store it in a jar.
Prep time: 10 minutes
Cooking time: 25 minutes
Freezable? No
50g/1¾oz/⅓ cup quinoa
2 courgettes (zucchini), sliced thinly on the diagonal
2 tbsp olive oil
100g/3½oz halloumi cheese, cut into chunks
2 tbsp vegetable oil
salt and pepper
a good handful of rocket (arugula)
a few mint leaves, shredded
1 red chilli, deseeded and finely chopped
juice of ½ lemon
AT HOME
Boil the quinoa for 12 minutes, until tender. Drain and dry on kitchen paper as thoroughly as you can.
Meanwhile, heat a griddle or frying pan over a high heat. Toss the courgettes in 1 tbsp of the olive oil and griddle for a couple of minutes on each side. Remove the courgettes, add a little more olive oil and the halloumi, and cook for a minute on each side.
Heat the vegetable oil in a non-stick frying pan or sauté pan over a medium–high heat. Add the quinoa and a pinch of salt. Sauté, stirring occasionally, until golden, crisp and toasty, which should take 5 minutes. Set aside to cool.
Toss together the courgettes, halloumi, rocket, mint, chilli and lemon juice, and add a handful of toasted quinoa. Store in Tupperware in the fridge for up to 2 days.
IN EACH LUNCHBOX
A portion of courgette and halloumi salad.
TO FINISH
Eat.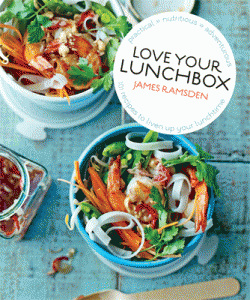 Recipe extracted from Love Your Lunchbox by James Ramsden, published by Pavilion. Photograph by Martin Poole.Click here to buy this book.