In Oz Clarke's World of Wine, Oz takes the reader on an illustrated, visual grand tour of the great wine regions of the world – explaining the flavours behind different wines and how to find the wine you want. Chile and Argentina are two stalwart favourites when it comes to South American wine, but the other countries on the continent have exciting wine industries of their own. Read on to discover the wines of Uruguay, Brazil, Mexico and beyond.
By Oz Clarke
Given that the European wine vine Vitis vinifera arrived in the Americas through Mexico, spreading north and south with the missionaries and the Conquistadores, it made relatively little impression on Central America, with only Mexico having any kind of wine culture. It made a considerable impression on South America, but until very recently the wine culture there seemed to be frozen in a pre-modern, pre-New World state. Then Chile, followed by Argentina, and then Uruguay and Brazil, at last woke up and now South America is rightly held up as one of the most exciting wine regions in the world.
The Andes and cooling breezes off the Pacific are the most important physical influences on viticulture. These maritime breezes help regulate excessive temperatures the length of the coast, from Baja California down to Chile's Central Valley. On the eastern side, vineyards in Uruguay and parts of southern Brazil are influenced by the problematic combination of warm, wet oceanic weather off the Atlantic, and regular blasts from the cold Pampero wind that originates in the Argentine pampas.
URUGUAY
Unlike Chile and Argentina, Uruguay is small and has only about 9000ha (22,500 acres) of vines. Its wine culture was developed at the end of the 19th century, mainly by Basque settlers. In Chile and Argentina the Andes dominate the vineyards, but in ultra-flat Uruguay it's pretty hard even to find a hill. The unpredictable, rainbearing Atlantic means that Uruguay is wet, and wet throughout the year. Some years the rain doesn't come at harvest time and everyone rejoices. Of course, that's exactly what happens in Bordeaux. In the southern parts of San Jose, and in Canelones where 90 per cent of Uruguay's vineyards are, it is almost all cold, damp clay. Not what's wanted in a wet climate. Gravel would be better. Well, on the sea shore, down at Rocha, like the Medoc, there's gravel aplenty, buffeted by the Atlantic winds, and just to the west Maldonado's granite hills promise much. These are Uruguay's two most exciting areas. Alternatively, head north – there's sandy soil on the Brazilian border at Rivera, and alluvial soils at Salto – both giving wines of encouraging quality – but with an annual rainfall of up to 1,600mm (63in), this isn't classic vineyard country. Then there's the Tannat, an import from the Atlantic coast of France. It's a bit of a brute of a grape: thick-skinned, tannic and requiring time in cask and bottle to soften and show delightful raspberry and blueberry fruit, but it can survive damp conditions, and it is different, in a world increasingly looking for variety. It is often tempered by blending with a little Cabernet Franc. With wines such as this, Uruguay could emerge as a strong niche player among New World wine countries.
BRAZIL
Brazil is such a vast country that it seems to squeeze all the others in South America into margins of the continent and you think – there must be some ace places to plant vineyards. Well, there are, but they are few and far between because Brazil largely straddles the Equator and the Tropic of Capricorn, and is tropical, subtropical or desert. And in the world's largest tract of rainforest you'd expect it to be pretty hot and humid, which is exactly what most of it is. This doesn't stop there being a lot of vineyards – over 80,000ha (200,000 acres), but only about 10 per cent of these are for vinifera wine grapes.
Remarkably, there is a fascinating subtropical operation at Vale do Sao Francisco, only 9° South, which in blistering conditions produces two crops a year of pretty tasty wine – the Moscato is particularly juicy. Otherwise you have to head way south to find decent stuff. The traditional area – the Rio Grande do Sul, centred on the mountain city of Bento Goncalves – was settled by Italians in the 1840s.
It's still pretty humid, but good wines are increasingly possible, and the need to pick early in wet conditions means that lowish-alcohol reds from grapes like Merlot, Cabernet Franc and Teroldego can be delightful, as can the Moscatos, many of which are made in the sweet sparkling style of Italy's Asti. There is clearly the drive to make riper, later-picked and more heavily oaked 'Reserve' styles, and the best producers make a reasonable stab at these, but I believe that, in a world that increasingly wants lighter, fresher, reds, Rio Grande do Sul can provide them.
Sparkling wine, dry or sweet, from Pinot Noir and Chardonnay, or Moscato, is always good, and sometimes outstanding. The most promising areas for dry reds and whites are the high Planalto Catarinense vineyards north of Bento Goncalves; with much drier conditions and good sunshine tempered by the altitude, they are well suited to grapes like the Cabernets and Merlot. The dry and temperate vineyards of the Serra do Sudeste down near Uruguay – fairly high and influenced by the cold Atlantic – have shown impressive form with reds and whites. Further inland is the Campanha region: also promising, but less temperate, drier and hotter, giving ripeness but less perfume and character than the grapes of the Sudeste.
MEXICO
Mexico ought to play a much more important role in this book, since the whole Central and South American wine industry, as well as that of California, stems from the Spanish arriving in Mexico, planting imported Spanish vines and establishing wineries. The oldest winery in the Americas was established here toward the end of the 16th century, and is still going. But Mexicans have never taken to wine and, although the country has 40,000ha (98,000 acres) of vines, over 90 per cent of the grapes are destined for brandy, or just for eating. The few quality vineyards are mostly in the Baja California peninsula, just south of the US border, where a number of east-west valleys draw cool winds and fog up from the Pacific Ocean. Two companies – Pedro Domecq and L A Cetto – dominate production and make some good reds from Petite Sirah, Nebbiolo, Tempranillo and Zinfandel. On the other side of the country, in the Parras Valley, Casa Madero has had some success with Cabernet Sauvignon.
OTHER COUNTRIES
Venezuela has vines – at around 10° North, near Maracaibo, it can give three crops a year – and two is perfectly normal! And there are discernible differences in flavour and quality between each harvest. I'm not sure how the Syrah and Petit Verdot vines feel about that. Bolivia has vines, too, including some of the highest in the world at up to 2,500m (8,200ft). I tried the wines this year after a long gap and the improvement has been dramatic. Peru used to have a relatively important wine industry, but its vineyards have now slumped to about 11,000ha (27,180 acres), and most of the grapes are used for distilling Pisco, the local spirit, which can be dangerously delicious. Elsewhere, Ecuador makes good Chardonnay and Colombia and Paraguay do produce a bit of wine. And I've also had Cuban Chardonnay.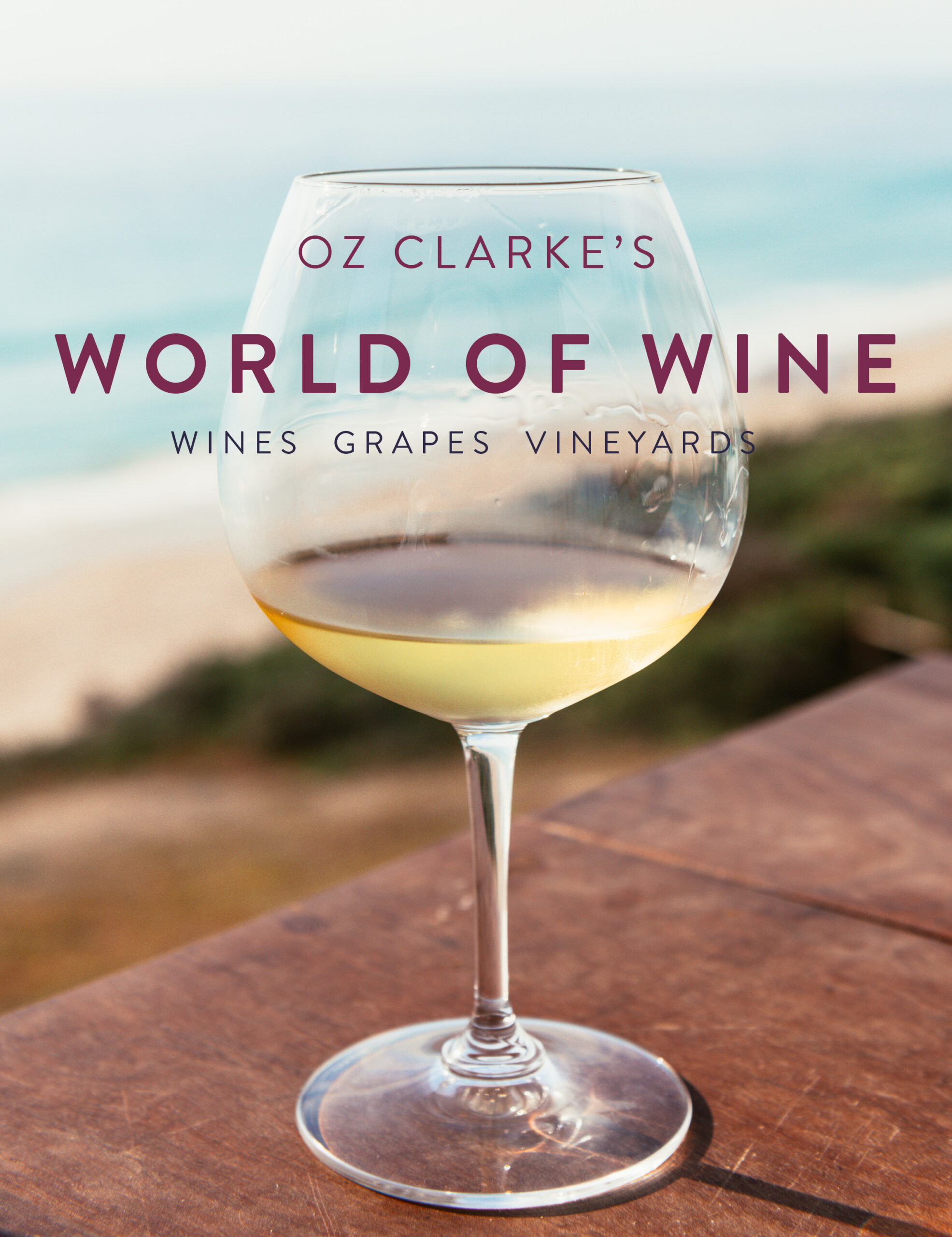 Extracted from Oz Clarke's World of Wine (Pavilion), out now.